Technical Specifications
| | | | |
| --- | --- | --- | --- |
| Overall Lenght | 1 113 mm | Manufacturer | Birmingham Small Arms Company |
| Barrel Lenght | 505 mm | Type | spring piston with cocking lever |
| Sight Radius | 430 mm | Manufactured Pieces | ? |
| Weight | 3,4 kg | Production Period | 1905-? |
| Caliber | 4,5 mm | | |
---
Rear Sight Side View
Rear Sight Top View
Front Sight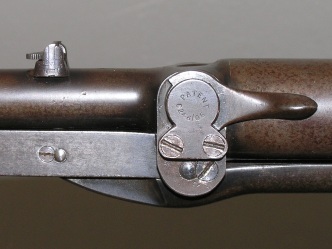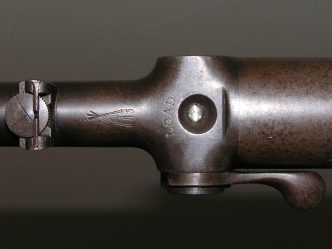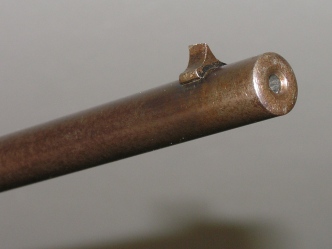 Shutter/Safety
Trigger and Trigger Guard
Markings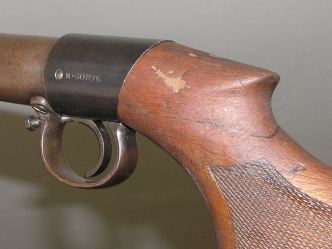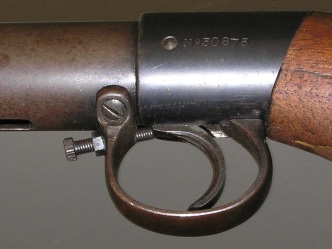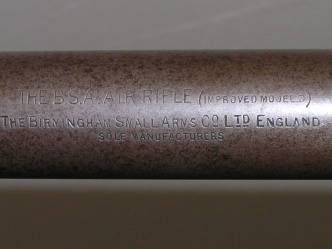 ---
First airgun of Birmingham Small Arms company has been manufactured in 1905. Improved model D on the photographs has been produced according to production number in 1910. Pulling lever is located underneath of the barrel. Pellets are inserting from above. Groove barrel bore. Airgun is marked by characteristic markings - guns build into pyramid.

On airgun are following markings:

Manufacturing number : 30 875
On the body tube above: THE B.S.A AIR RIFLE (IMPROVED MODEL D), THE BIRMINGHAM SMALL ARMS CO LTD ENGLAND, SOLE MANUFACTURERS
On the barrel underneath: PAT 11817-05
On the side cover: PATENT 8246/06
On the underbarrel lever: Lincoln Jeffries Patent 8761/04
Place for loading: LOAD

Butt on this airgun is bounded and it has been cemented in the past - cracked butt is common defect on this type of airguns. Butt is mounted by massive bolt inside. Very accurate manufacturing of all parts.